The American Cormo sheep breed originally comes from Tasmania in Australia. They are a mix of Superfine Saxon Merino, Lincoln, and Australian Merino. In 1976, the American Cormo was first imported to the United States.
The American Cormo sheep breed is distinguishable by their open faces (meaning there is no wool between the cheek and the topknot), a desirable quality as it allows them to have unobstructed vision and reduces how much maintenance farmers are required to do.
Some sheep who have wool on their faces need to have their faces shorn more regularly so that they are able to see.
Why Raise Cormo Sheep?
The American Cormo is a resilient breed that can thrive in a variety of harsh climates and conditions. The breed is known for producing a high generating, white, fine, and long fleece with a unique degree of fiber consistency.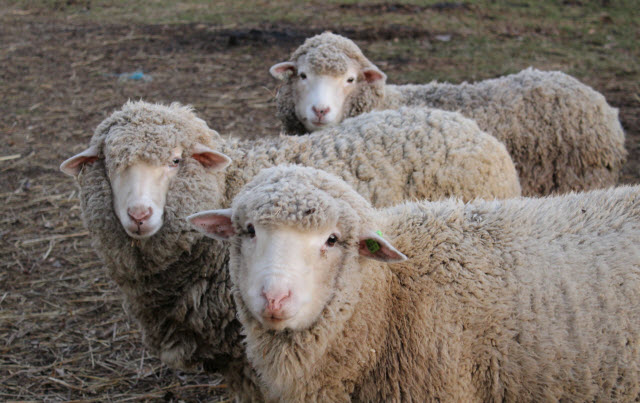 The wool produced by American Cormo sheep is commonly valued on farms which pride themselves on fine wool production and Cormo ewes have earned a reputation as excellent mothers.
Though small in size, the Cormo is a desirable sheep breed because they typically require less food than other breeds, economically producing wool year-round for farmers. In fact, the official breed association website says that the Cormo may require 40% less food each year than some larger breeds.
Cormo Sheep Breed Information
MATURE BODY WEIGHT
Ram: 160-200 lbs.
Ewe: 120-160 lbs.
AVERAGE FIBER DIAMETER
Micron: 17-23
USDA Wool Grade: 46s-56s
GREASE FLEECE WEIGHT
Ewe: 5-8 lbs.
YIELD
50-65%
STAPLE LENGTH
2 1/2 – 4″
To learn more, visit the American Cormo Sheep Association website.