The North Country Cheviot sheep originated in the north of Scotland and was first brought over to the U.S. in 1944. They are known as a sheep breed that thrives in the hills – their stocky compact bodies and sure-footed nature is well-suited to the highlands of Scotland where the breed was developed and as a result farmers in difficult climates and rough country often choose to raise North Country Cheviots.
About the North Country Cheviot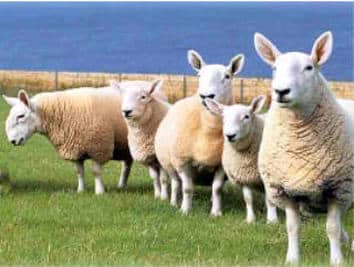 This tough, self-reliant breed had to learn how to survive with scarce food conditions and without any help from man. As a result today's North Country Cheviot is highly intelligent and self-reliant, making them a sound investment for commercial operations.
North Country Cheviots are one of the longest living breeds and are typically very healthy and resourceful.
An interesting aspect of raising North Country Cheviot sheep is that historically their lambs had to learn to walk and run almost right after birth because of their dangerous living conditions and as a result this breed produces hardy lambs.
This is a boon to farmers who wish to invest limited time in care and resources in their flock each spring.
Breed Information
Mature Body Weight
Ram: 200 – 300 pounds
Ewe: 130 – 180 pounds
Average Fiber Diameter
Micron 27 – 33
USDA Wool Grade 46's – 56's
Grease Fleece Weight
5 – 10 pounds
Wool Staple Length
4 – 6 inches
For more information about the North Country Cheviot or to find a breeder near you visit the American North Country Cheviot Sheep Association website.