It's thought that Mouflon Sheep (Ovis orientalis orientalis) are one of two sheep breeds which are an ancestor for all domestic sheep. The dramatic, wild appearance of the Mouflon makes it easy to compare them to wild bighorn sheep. The Mouflon sheep breed has a reddish brown short hair coat with a light-colored saddle and dark brown stripes. A Mouflon's head is well-balanced and proportionate to its body. The breed standard says that Mouflon should hold their head high when on alert.
Mouflon Ram Horns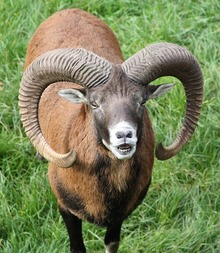 The horns of a Mouflon ram are balanced, striking, and beautiful.
The horns curl one full revolution at maturity (most horns will measure 20-29 inches and exceptional racks of horns will measure 26-33 inches in length). The base of a Mouflon ram's horns may be 8 or more inches in circumference.
All Mouflon rams are horned (those that do not grow horns cannot be registered). Some Mouflon ewes are horned while others never grow horns.
Rams (and some ewes) develop a slight, noble-looking "roman nose." This means they have a nose which is arched slightly when viewed from the side.
Considered a hair sheep breed, the Mouflon in fact has two separate coats. The breed has an exterior "hair coat" which sheds water. Under that, there is an insulating wool-type undercoat which keeps them warm during the winter. This undercoat is shed during warm weather.
History of the Mouflon Sheep Breed
Mouflon sheep have historically inhabited mountain ranges and steep, forested hillsides. The modern Mouflon naturally inhabits northern and eastern Iraq, Iran and the Caucasus. Historically, you could find the breed throughout the Balkans, the Crimean peninsula and on several islands in the Mediterranean.
On the island of Cyprus the Mouflon evolved. Here, it became a distinct sub-species unique to this island. Today, only about 3,000 of these sheep exist. Mouflon are now rare on the islands of the Mediterranean.
It wasn't long before Mouflon were imported to continental Europe. Here, the breed became popular with hunters. Today, North American game ranches often import Mouflon sheep. The breed's dramatic, wild appearance and impressive rack of horns have helped to make Mouflon sheep hunting popular.
Mouflon Sheep Hunting
North American game ranches often import the Mouflon sheep breed to use for trophy hunters. That said, most don't use purebred Mouflon for hunting.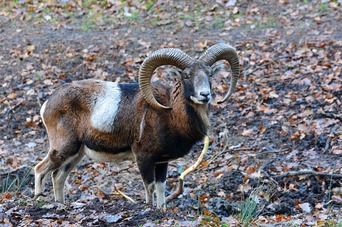 Typically the breed is crossed with bighorn sheep and domestic sheep breeds. This allows ranchers to create more exotic, unique, and impressive trophy-rams for hunters.
When you see a Mouflon's exotic coloration and impressive horns it's easy to see why this breed has found a role within this niche sheep industry.
Breed Standard: Average Size of Mouflon
| Mature Rams | Mature Ewes |
| --- | --- |
| Height: 27 – 35 inches | Height: 25 – 30 inches |
| Weight: 90 – 120 pounds | Weight: ~70 pounds |
For more information about Mouflon or to find a breeder near you, visit the UHHSA website.