There are two schools of thought for providing housing for sheep: provide plenty of shelter, or provide next to none. Selecting the perfect option for housing your sheep on your farm depends on the size of your flock, what you're raising sheep for, where you live, and what time of year you're lambing. In today's article I'll talk all about sheep barns, sheds for sheep, and discuss the pros and cons of each type of housing option so you can choose what will work best for your sheep on your farm.
Does it Make Sense to Build a Barn or Shed for Sheep?
There are some farmers who take a less-is-more approach to shelter and realize that hardy sheep are able to survive outdoors without shelter in most conditions.
A general rule of thumb is that the more shelter you offer your sheep the more work required of the shepherd – you'll have to regularly clean waste and old bedding out of your barn, you'll have to invest in building or purchasing metal or wood sheep panels and fencing to use inside your structure, you'll likely have electricity costs and upkeep expenses for the structure.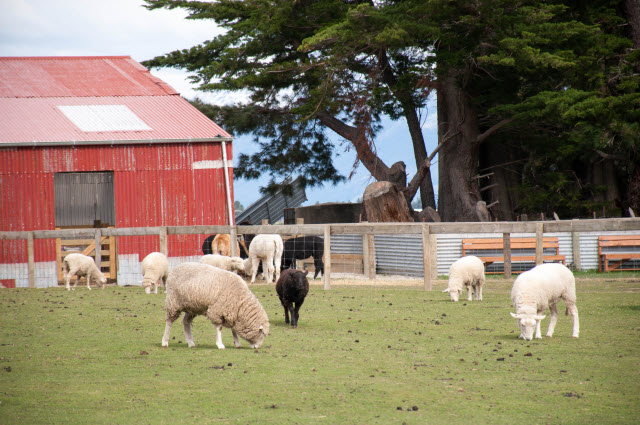 All that said, building a barn or shed to provide shelter for sheep is a great choice and a good investment for many flocks of sheep as it allows you to care for your sheep in a place that's protected from the elements, increases lamb survival rates and can provide space to store feed and equipment.
Small Sheep Sheds & Barns
If you are looking for a small sheep shed or sheep barn, one popular choice is to purchase a kit, which you can assemble in a single weekend (hopefully with a couple of friends to make the project quicker and more fun).
One 12′ x 20′ sheep barn may be all you need if you have a small flock of sheep and live in a climate where minimal shelter is required.
While some people like buying raw materials and building a barn themselves, the time savings on finding sheep barn plans, buying all of the materials, making all of your measurements, and building it from scratch may be reasonably offset by purchasing a pre-fab sheep shed and assembling it on-site.
Here are a few of my favorite models (available on Amazon) if you decide to go this route:
Best Barns Millcreek 12′ x 20′ Shed for Sheep
This kit features a loft where you can store hay and tack, nice wide double doors that close securely at night, and 4×4 pressure treated runners (which are nice to move the shed around your property if you decide to reposition it down the line). Comes with a 15-year limited manufacturer's warranty. Siding has a 50-year warranty.
Best Barns Roanoke 16′ x 28′ Small Barn for Sheep
This larger, gambrel-roof style barn for small sheep farms has sturdy double doors, access to the loft for loading in hay and tack, and will provide plenty of space for small and beginner sheep farms. You'll want to think about some footings or runners for the structure to keep it up off the ground and extend the life of it, but it's a nice kit for a classic barn look. 15-year limited manufacturer's warranty, siding carries a 50-year warranty.
Evaluate Your Needs Based on Climate
If you live in a warm climate without the threat of freezing temperatures during lambing time, many sheep breeds can lamb outside without issue.
Evaluate your property to see if there are sufficient trees and hills to provide shelter from the wind and if so your main responsibilities will be to provide adequate fresh water.
If you live in the north or if you have a small farm where you raise less hardy sheep you'll likely want to build a pole barn, traditional barn or other shed which will provide shelter for your flock.
Pole barns are an excellent choice as they are less expensive to build and it's typically easy to maneuver a tractor through the structure which makes it easy to clean out old bedding each year. Pole barns provide plenty of room for air circulation and typically have several garage doors which can be easily opened or closed depending upon weather conditions and the needs of the shepherd.
Since pole barns are less challenging to construct than traditional barns this is a viable option for many shepherds as they can be full or partial DIY projects and many local contractors can build these structures quickly.
Important Considerations When Building a Sheep Barn
Regardless of what type of structure you choose to offer your flock it's important to consider the size of your flock of sheep now and its potential to grow.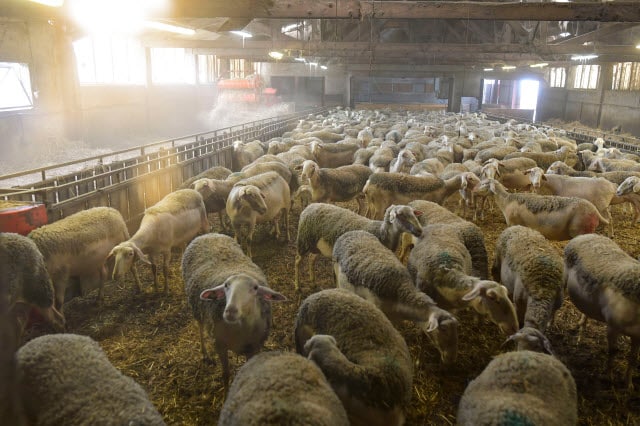 It's always better to have too much barn than not enough as overcrowding of sheep can lead to health problems, cleanliness issues and discomfort for your animals. 1.2-1.4 meters squared is recommended for each pregnant ewe and ewes with lambs at their side should have 2.2 meters squared each. As the lambs grow they will require more space.
Many farmers in northern climates with defined seasons will bring their pregnant ewes into their barn during winter and lambing and will release them in the spring, mucking out the structure and decontaminating the ground with lime each year to keep the barn clean and disinfected for the next lambing season.
It's less expensive to raise sheep on pasture than it is in a barn (where you have to provide hay and grain or minerals) so the sooner you're able to turn the ewes and lambs out on pasture the better it is for them and for your wallet.
The Importance of Planning
Shepherds who take time to plan their setup will often provide the plumbing and electricity necessary for automatic water delivery solutions.
While this may seem like a costly luxury, with a little bit of planning and an extra investment at set-up you can ensure that your flock always has access to clean water and you can cut down on your maintenance time significantly.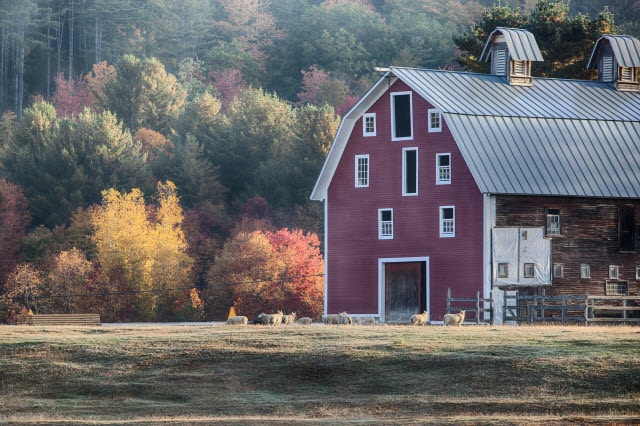 Automatic watering devices range from reservoirs with a built-in heating element which re-fill automatically as the water is consumed to small self-serve water nipples which will provide water to your sheep as they depress a small lever.
Your sheep will quickly learn how to use these watering solutions and they can save you time and save back pain as you won't have to lug heavy buckets of water from one pen to the next.
If you're in a cold climate pay special attention to securing a safe heating element which will ensure your water line doesn't freeze.
Basic Requirements in Any Sheep Shed or Barn
There are several important considerations you should make when building your barn. These include
Water Supply
Lighting,
and Ease of Access (for you and the sheep)
Water Supply
The first is water supply. The supply of fresh water to your sheep is critical – especially for pregnant nursing ewes.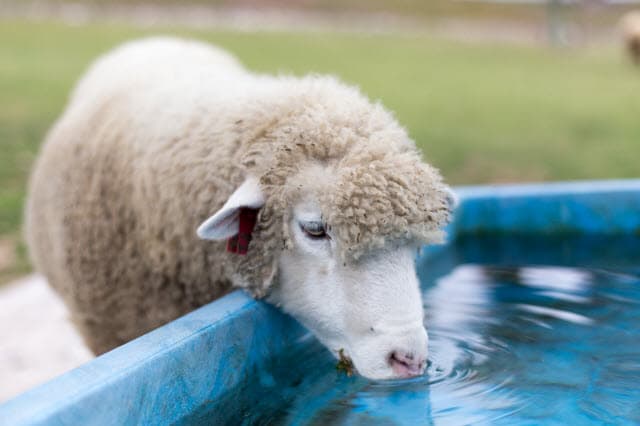 Many farmers lug buckets of water to the pens but it's often a worthwhile expense if you can run a water line to the interior of your barn where you can place an insulated spigot or hydrant. I use this freezeless hydrant from Woodford (made in the USA) on my farm, and it has worked with no leaks for years. I especially like that you can hook a bucket handle over the top, which makes filling buckets easy and reduces splatter.
Whatever model you get, the insulation of a freezeless hydrant is often critical as it will prevent the water line from freezing during winter – the most difficult time to provide water for sheep.
Remember to Plan for Lighting in Your Sheep Shelter or Barn
Of additional concern in your new barn or shed is lighting and the accessibility of power outlets throughout the space.
It's important that you install ample lighting in your sheep barn and that the lights you install are long-lasting to cut down on the time and money required to maintain them (replacing bulbs, etc.). Fluorescent strip lighting is a popular solution because it is relatively inexpensive, easy to install and because each light provides a significant amount of illumination.
Alternatives include small localized 60+ watt light bulbs and choosing long-lasting environmentally friendly options are the best investment.
Safety Considerations
We recommend that you also spend some time analyzing how you intend to use your space prior to wiring your barn. All wiring should be elevated so that your sheep cannot chew the wires and shock themselves or start a barn fire.
Decide where you plan to set up your lambing pens or jugs and make sure that you have a series of electrical outlets or power strips handy along that wall so that you can install heat lamps or use other electronics (including baby monitors) in this area if needed.
If you do use heat lamps or water heaters in your barn it's important to keep safety in mind to protect the investment you've made in sheep housing (and to protect your sheep!). Sheep bedding is quite flammable so it's critical that you secure your heating elements and devices and/or position them so that they are out of reach.
Heat lamps can be a lifesaver for young lambs born in bitterly cold conditions but curious mothers may well nibble on low-hanging heat lamps. Make a point to secure these lamps with a chain so that there is no risk of them falling or tipping to come into contact with a flammable material.
If you decide to wrap your water lines with a heating element it is a good idea to wrap the heating element with some sort of insulation to keep the heat on the pipe and to protect your barn.
Ease of Access
If you live in a mild climate it's a good idea to offer your sheep easy access to outdoor space so that they can move around and stay healthy. You'll want doors that are wide enough to allow sheep to enter and exit freely, and the doorways to your shed or barn should be large enough to get a bobcat or small tractor inside as well so that you can remove old bedding easily.
Think about adding several loads of gravel to the areas immediately surrounding the entrances and exits of your barn. Sheep naturally drag bedding out of the barn as they enter and exit, and these egress points will become muddy messes that can result in hoof rot infections if you don't plan ahead and provide adequate drainage.
If you are able to afford it, installing small concrete pads which slope away from the barn door are a great way to ensure run-off of sheep waste and to cut down on the mud that's sure to build up at these high-traffic areas. This also makes cleanup with a tractor or skid-steer easier than gravel.
Finally, consider how you will feed and access your sheep inside your barn.
While you may want to spend time in the pen with your sheep, there will be times when you need to quickly feed your flock or add water to their pens without wanting to slip into barn boots and change clothes. Leaving some space for you to walk and perform these chores without entering the pens will make your daily management much more enjoyable.
Keep these basic rules in mind and you'll be well on your way to selecting and building the perfect housing option for your sheep and furnishing your lambs with the perfect sheep housing to ensure their health, happiness and rapid growth.