The Columbia sheep breed is the first of several breeds to have been developed in the United States, making it truly All-American. Columbia sheep originated as a result of crossing the Rambouillet and Lincoln in an effort to produce a breed which offered greater quantities of both meat and wool. The goal was to develop a single breed which made range crossbreeding obsolete and many would argue this goal was achieved successfully in the Columbia.
What do Columbia Sheep Look Like?
Columbias have wool all over their bodies except for their bare, white faces. While some confuse the breed with the smaller Corriedale, the two are distinguishable by the fact that Columbias have pink noses and white hooves whereas Corriedale sheep have a black nose and hooves.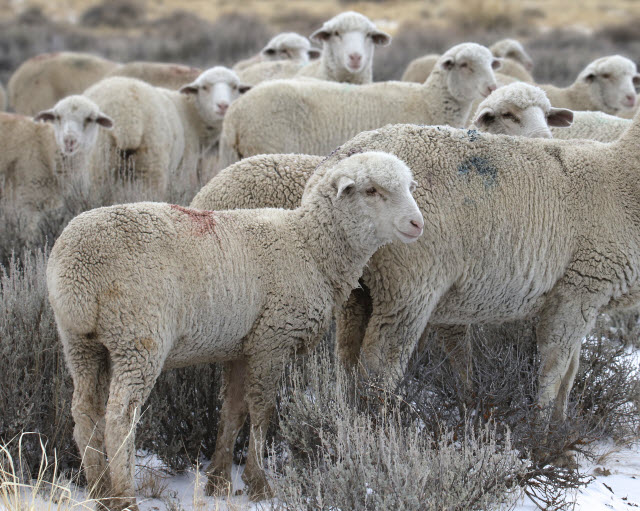 Though the Columbia was first bred to suit conditions of the range, they have spread to other parts of the U.S. and are often used to sire crossbred commercial lambs and for meat production.
This is a versatile breed that offers farmers the opportunity to maximize both meat and wool production on their farm, which has lead many to raise this hardy breed of sheep.
How Big are Columbias?
The Columbia sheep breed is considered one of the largest of any breeds of sheep (by far the largest breed which is used for wool production) and the Columbia yields medium-wool, thick fleece with desirable lengths.
Lambs grow rapidly and are resilient, hardy sheep. Columbia ewes have earned a reputation as good mothers and are a popular choice on large farms due to their ability to easily deliver large, strong lambs.
Columbia Breed Information
MATURE BODY WEIGHT
Ram: 250-350 lbs.
Ewe: 160-240 lbs.
AVERAGE FIBER DIAMETER
Micron: 23-29
USDA Wool Grade: 54's-62's
GREASE FLEECE WEIGHT
Ewe: 12-16 lbs.
YIELD
45-55%
STAPLE LENGTH
4-6″