The Blueface Leicester sheep breed is a combination of the United Kingdom's Longwool and the Border Leicester. In the 1700's, Robert Bakewell decided it would be ideal to create this breed in order to supply the appropriate sheep breeds to breeders of Northern England.
Why Raise Blueface Leicesters?
It is often used as a sire in breeding with crossbred ewes. The Blueface Leicester is a large sheep breed with a long body.
They are wool-free on their legs, heads, stomachs, udders and vulvar or scrotal regions.
The Blueface Leicester ewes are productive, and they are noticeable by their high udder positions. They are great at providing milk to their lambs and are exceptionally clean in terms of their conformation.
The Blueface Leicester's fleece is considered to be long wool, like their Border Leicester ancestors. This sheep breed's wool is often white in color though less common varieties include tan and even black (natural colored) fiber as well.
Blueface Leicester Sheep Breed Information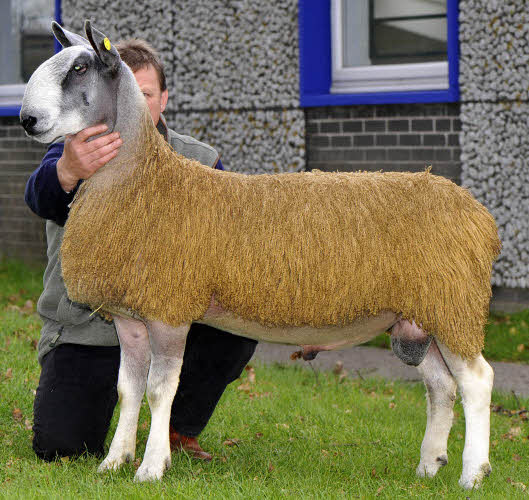 MATURE BODY WEIGHT
Ram: 230-270 lbs.
Ewe: 160-220 lbs.
AVERAGE FIBER DIAMETER
Micron: 24-28
USDA Wool Grade: 56's-60's
GREASE FLEECE WEIGHT
Ewe: 2.5 – 4.5 lb.
YIELD
75-80%
STAPLE LENGTH
5-6″
You can learn more about this breed and find a local farm raising Blueface Leicesters by visiting the Blueface Leicester Union at their website.