We hope you'll find this free, easy-to-use sheep gestation calculator to be a useful tool when estimating the lambing date for the ewes in your flock. Simply enter the date when your ram bred your ewe and click the "Calculate!" button.
The expected lambing date is based on 147 day sheep gestation period and the range of possible lambing dates is calculated to reflect a 138-159 gestation period for sheep.
As a bonus and thank you for visiting our site we've also included useful sheep gestation tables below for reference!
Click Here to Read our Lambing Tips
Lambing Due-Date Calculator:
What is the Average Sheep Gestation Period?
The gestation period of sheep is the period of time a pregnant ewe carries her lambs from breeding to delivery. The typical gestation period of a sheep is 147 days, though the length of time ewes carry their lambs before delivery can fall into a range of 138-159 days in most cases. This can vary based on a number of factors, including the breed of sheep, the size of the lambs, how many lambs are carried, condition of the ewe, and many more.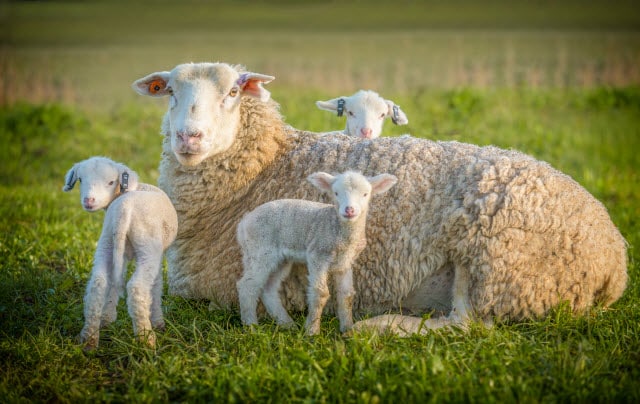 The gestation calculator above accounts for this range, offering both the 147 day expected delivery date and the range of possible lambing dates.
Lambing Calendar: Practical Sheep Gestation Chart
In addition to the gestation calculator at the top of this page, we've made an effort to assemble useful reference material in the form of sheep gestation tables and charts. These tables are based on a 147 day gestation period (the same period used in the calculator above).
If this page helps you or if you find it a useful resource please feel free to share it with your friends and family!
---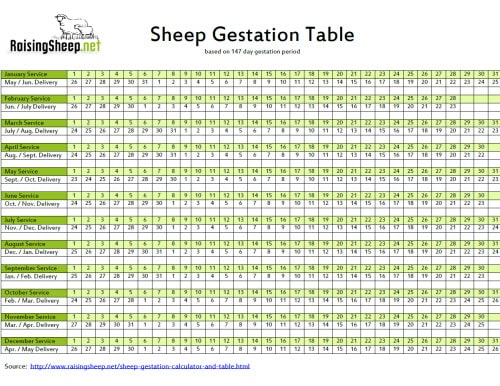 Take Our Sheep Gestation Table With You
Take our handy sheep gestation table to the barn with you! Download this useful resource and print a copy to keep it as a handy reference for your farm. Help other shepherds in your community: share this sheep gestation table at your next 4-H or FFA meeting as a free resource.
We also have a gestation table for sheep available on this page. Just scroll down to find the lambing due date of your ewe in the table below.
---
Sheep Gestation Calendar
Below is a table which will allow you to easily find the due date of your ewe based on the date she was bred by your ram. This is based on a 147 day gestation period.
| Date of Breeding | Est. Delivery Date |
| --- | --- |
| 01/01 | 05/26 |
| 01/02 | 05/27 |
| 01/03 | 05/28 |
| 01/04 | 05/29 |
| 01/05 | 05/30 |
| 01/06 | 05/31 |
| 01/07 | 06/01 |
| 01/08 | 06/02 |
| 01/09 | 06/03 |
| 01/10 | 06/04 |
| 01/11 | 06/05 |
| 01/12 | 06/06 |
| 01/13 | 06/07 |
| 01/14 | 06/08 |
| 01/15 | 06/09 |
| 01/16 | 06/10 |
| 01/17 | 06/11 |
| 01/18 | 06/12 |
| 01/19 | 06/13 |
| 01/20 | 06/14 |
| 01/21 | 06/15 |
| 01/22 | 06/16 |
| 01/23 | 06/17 |
| 01/24 | 06/18 |
| 01/25 | 06/19 |
| 01/26 | 06/20 |
| 01/27 | 06/21 |
| 01/28 | 06/22 |
| 01/29 | 06/23 |
| 01/30 | 06/24 |
| 01/31 | 06/25 |
| 02/01 | 06/26 |
| 02/02 | 06/27 |
| 02/03 | 06/28 |
| 02/04 | 06/29 |
| 02/05 | 06/30 |
| 02/06 | 07/01 |
| 02/07 | 07/02 |
| 02/08 | 07/03 |
| 02/09 | 07/04 |
| 02/10 | 07/05 |
| 02/11 | 07/06 |
| 02/12 | 07/07 |
| 02/13 | 07/08 |
| 02/14 | 07/09 |
| 02/15 | 07/10 |
| 02/16 | 07/11 |
| 02/17 | 07/12 |
| 02/18 | 07/13 |
| 02/19 | 07/14 |
| 02/20 | 07/15 |
| 02/21 | 07/16 |
| 02/22 | 07/17 |
| 02/23 | 07/18 |
| 02/24 | 07/19 |
| 02/25 | 07/20 |
| 02/26 | 07/21 |
| 02/27 | 07/22 |
| 02/28 | 07/23 |
| 03/01 | 07/24 |
| 03/02 | 07/25 |
| 03/03 | 07/26 |
| 03/04 | 07/27 |
| 03/05 | 07/28 |
| 03/06 | 07/29 |
| 03/07 | 07/30 |
| 03/08 | 07/31 |
| 03/09 | 08/01 |
| 03/10 | 08/02 |
| 03/11 | 08/03 |
| 03/12 | 08/04 |
| 03/13 | 08/05 |
| 03/14 | 08/06 |
| 03/15 | 08/07 |
| 03/16 | 08/08 |
| 03/17 | 08/09 |
| 03/18 | 08/10 |
| 03/19 | 08/11 |
| 03/20 | 08/12 |
| 03/21 | 08/13 |
| 03/22 | 08/14 |
| 03/23 | 08/15 |
| 03/24 | 08/16 |
| 03/25 | 08/17 |
| 03/26 | 08/18 |
| 03/27 | 08/19 |
| 03/28 | 08/20 |
| 03/29 | 08/21 |
| 03/30 | 08/22 |
| 03/31 | 08/23 |
| 04/01 | 08/24 |
| 04/02 | 08/25 |
| 04/03 | 08/26 |
| 04/04 | 08/27 |
| 04/05 | 08/28 |
| 04/06 | 08/29 |
| 04/07 | 08/30 |
| 04/08 | 08/31 |
| 04/09 | 09/01 |
| 04/10 | 09/02 |
| 04/11 | 09/03 |
| 04/12 | 09/04 |
| 04/13 | 09/05 |
| 04/14 | 09/06 |
| 04/15 | 09/07 |
| 04/16 | 09/08 |
| 04/17 | 09/09 |
| 04/18 | 09/10 |
| 04/19 | 09/11 |
| 04/20 | 09/12 |
| 04/21 | 09/13 |
| 04/22 | 09/14 |
| 04/23 | 09/15 |
| 04/24 | 09/16 |
| 04/25 | 09/17 |
| 04/26 | 09/18 |
| 04/27 | 09/19 |
| 04/28 | 09/20 |
| 04/29 | 09/21 |
| 04/30 | 09/22 |
| 05/01 | 09/23 |
| 05/02 | 09/24 |
| 05/03 | 09/25 |
| 05/04 | 09/26 |
| 05/05 | 09/27 |
| 05/06 | 09/28 |
| 05/07 | 09/29 |
| 05/08 | 09/30 |
| 05/09 | 10/01 |
| 05/10 | 10/02 |
| 05/11 | 10/03 |
| 05/12 | 10/04 |
| 05/13 | 10/05 |
| 05/14 | 10/06 |
| 05/15 | 10/07 |
| 05/16 | 10/08 |
| 05/17 | 10/09 |
| 05/18 | 10/10 |
| 05/19 | 10/11 |
| 05/20 | 10/12 |
| 05/21 | 10/13 |
| 05/22 | 10/14 |
| 05/23 | 10/15 |
| 05/24 | 10/16 |
| 05/25 | 10/17 |
| 05/26 | 10/18 |
| 05/27 | 10/19 |
| 05/28 | 10/20 |
| 05/29 | 10/21 |
| 05/30 | 10/22 |
| 05/31 | 10/23 |
| 06/01 | 10/24 |
| 06/02 | 10/25 |
| 06/03 | 10/26 |
| 06/04 | 10/27 |
| 06/05 | 10/28 |
| 06/06 | 10/29 |
| 06/07 | 10/30 |
| 06/08 | 10/31 |
| 06/09 | 11/01 |
| 06/10 | 11/02 |
| 06/11 | 11/03 |
| 06/12 | 11/04 |
| 06/13 | 11/05 |
| 06/14 | 11/06 |
| 06/15 | 11/07 |
| 06/16 | 11/08 |
| 06/17 | 11/09 |
| 06/18 | 11/10 |
| 06/19 | 11/11 |
| 06/20 | 11/12 |
| 06/21 | 11/13 |
| 06/22 | 11/14 |
| 06/23 | 11/15 |
| 06/24 | 11/16 |
| 06/25 | 11/17 |
| 06/26 | 11/18 |
| 06/27 | 11/19 |
| 06/28 | 11/20 |
| 06/29 | 11/21 |
| 06/30 | 11/22 |
| 07/01 | 11/23 |
| 07/02 | 11/24 |
| 07/03 | 11/25 |
| 07/04 | 11/26 |
| 07/05 | 11/27 |
| 07/06 | 11/28 |
| 07/07 | 11/29 |
| 07/08 | 11/30 |
| 07/09 | 12/01 |
| 07/10 | 12/02 |
| 07/11 | 12/03 |
| 07/12 | 12/04 |
| 07/13 | 12/05 |
| 07/14 | 12/06 |
| 07/15 | 12/07 |
| 07/16 | 12/08 |
| 07/17 | 12/09 |
| 07/18 | 12/10 |
| 07/19 | 12/11 |
| 07/20 | 12/12 |
| 07/21 | 12/13 |
| 07/22 | 12/14 |
| 07/23 | 12/15 |
| 07/24 | 12/16 |
| 07/25 | 12/17 |
| 07/26 | 12/18 |
| 07/27 | 12/19 |
| 07/28 | 12/20 |
| 07/29 | 12/21 |
| 07/30 | 12/22 |
| 07/31 | 12/23 |
| 08/01 | 12/24 |
| 08/02 | 12/25 |
| 08/03 | 12/26 |
| 08/04 | 12/27 |
| 08/05 | 12/28 |
| 08/06 | 12/29 |
| 08/07 | 12/30 |
| 08/08 | 12/31 |
| 08/09 | 01/01 |
| 08/10 | 01/02 |
| 08/11 | 01/03 |
| 08/12 | 01/04 |
| 08/13 | 01/05 |
| 08/14 | 01/06 |
| 08/15 | 01/07 |
| 08/16 | 01/08 |
| 08/17 | 01/09 |
| 08/18 | 01/10 |
| 08/19 | 01/11 |
| 08/20 | 01/12 |
| 08/21 | 01/13 |
| 08/22 | 01/14 |
| 08/23 | 01/15 |
| 08/24 | 01/16 |
| 08/25 | 01/17 |
| 08/26 | 01/18 |
| 08/27 | 01/19 |
| 08/28 | 01/20 |
| 08/29 | 01/21 |
| 08/30 | 01/22 |
| 08/31 | 01/23 |
| 09/01 | 01/24 |
| 09/02 | 01/25 |
| 09/03 | 01/26 |
| 09/04 | 01/27 |
| 09/05 | 01/28 |
| 09/06 | 01/29 |
| 09/07 | 01/30 |
| 09/08 | 01/31 |
| 09/09 | 02/01 |
| 09/10 | 02/02 |
| 09/11 | 02/03 |
| 09/12 | 02/04 |
| 09/13 | 02/05 |
| 09/14 | 02/06 |
| 09/15 | 02/07 |
| 09/16 | 02/08 |
| 09/17 | 02/09 |
| 09/18 | 02/10 |
| 09/19 | 02/11 |
| 09/20 | 02/12 |
| 09/21 | 02/13 |
| 09/22 | 02/14 |
| 09/23 | 02/15 |
| 09/24 | 02/16 |
| 09/25 | 02/17 |
| 09/26 | 02/18 |
| 09/27 | 02/19 |
| 09/28 | 02/20 |
| 09/29 | 02/21 |
| 09/30 | 02/22 |
| 10/01 | 02/23 |
| 10/02 | 02/24 |
| 10/03 | 02/25 |
| 10/04 | 02/26 |
| 10/05 | 02/27 |
| 10/06 | 02/28 |
| 10/07 | 03/01 |
| 10/08 | 03/02 |
| 10/09 | 03/03 |
| 10/10 | 03/04 |
| 10/11 | 03/05 |
| 10/12 | 03/06 |
| 10/13 | 03/07 |
| 10/14 | 03/08 |
| 10/15 | 03/09 |
| 10/16 | 03/10 |
| 10/17 | 03/11 |
| 10/18 | 03/12 |
| 10/19 | 03/13 |
| 10/20 | 03/14 |
| 10/21 | 03/15 |
| 10/22 | 03/16 |
| 10/23 | 03/17 |
| 10/24 | 03/18 |
| 10/25 | 03/19 |
| 10/26 | 03/20 |
| 10/27 | 03/21 |
| 10/28 | 03/22 |
| 10/29 | 03/23 |
| 10/30 | 03/24 |
| 10/31 | 03/25 |
| 11/01 | 03/26 |
| 11/02 | 03/27 |
| 11/03 | 03/28 |
| 11/04 | 03/29 |
| 11/05 | 03/30 |
| 11/06 | 03/31 |
| 11/07 | 04/01 |
| 11/08 | 04/02 |
| 11/09 | 04/03 |
| 11/10 | 04/04 |
| 11/11 | 04/05 |
| 11/12 | 04/06 |
| 11/13 | 04/07 |
| 11/14 | 04/08 |
| 11/15 | 04/09 |
| 11/16 | 04/10 |
| 11/17 | 04/11 |
| 11/18 | 04/12 |
| 11/19 | 04/13 |
| 11/20 | 04/14 |
| 11/21 | 04/15 |
| 11/22 | 04/16 |
| 11/23 | 04/17 |
| 11/24 | 04/18 |
| 11/25 | 04/19 |
| 11/26 | 04/20 |
| 11/27 | 04/21 |
| 11/28 | 04/22 |
| 11/29 | 04/23 |
| 11/30 | 04/24 |
| 12/01 | 04/25 |
| 12/02 | 04/26 |
| 12/03 | 04/27 |
| 12/04 | 04/28 |
| 12/05 | 04/29 |
| 12/06 | 04/30 |
| 12/07 | 05/01 |
| 12/08 | 05/02 |
| 12/09 | 05/03 |
| 12/10 | 05/04 |
| 12/11 | 05/05 |
| 12/12 | 05/06 |
| 12/13 | 05/07 |
| 12/14 | 05/08 |
| 12/15 | 05/09 |
| 12/16 | 05/10 |
| 12/17 | 05/11 |
| 12/18 | 05/12 |
| 12/19 | 05/13 |
| 12/20 | 05/14 |
| 12/21 | 05/15 |
| 12/22 | 05/16 |
| 12/23 | 05/17 |
| 12/24 | 05/18 |
| 12/25 | 05/19 |
| 12/26 | 05/20 |
| 12/27 | 05/21 |
| 12/28 | 05/22 |
| 12/29 | 05/23 |
| 12/30 | 05/24 |
| 12/31 | 05/25 |