The California Variegated Mutant or CVM sheep breed was developed from selective breeding of the Rambouillet and the Romney breeds, which is otherwise known as the Romeldale. The California Variegated Mutant shows that repetitive color genes can cause something extremely different to occur, as each and every one of these CVM sheep is unique in appearance from other members of the breed.
What do CVM Sheep Look Like?
They are distinguishable by their cream-colored wool and badger-like face. The wool of this breed of sheep can also be silver or gray.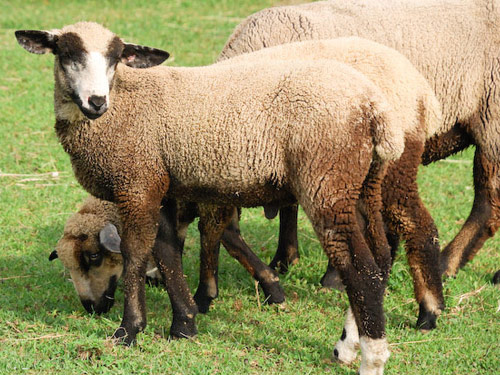 California Variegated Mutant ewes are known to be great mothers. They are docile and much like their Romney ancestors they are excellent at raising their young.
This breed tends to give birth to twins.
CVM sheep grow a long, resilient fleece which is quite soft and desired by handspinners. The California Variegated Mutant is considered a rare breed.
California Variegated Mutant Sheep Breed Information
MATURE BODY WEIGHT
Ram: 150-200 lbs.
Ewe: 125-150 lbs.
AVERAGE FIBER DIAMETER
Micron: 22-25
USDA Wool Grade: 58's-62's
GREASE FLEECE WEIGHT
Ewe 6-12 lb
YIELD
60%
STAPLE LENGTH
3-5"
To learn more about the California Variegated Mutant breed visit the American Romeldale / CVM Association website.
Title Photo: Steven Walling, CC BY 3.0, via Wikimedia Commons (original image cropped)