The Blue Texel sheep breed was first recognized and recorded as a distinct breed during the early 1970s in the Netherlands. Natural colored "blue" Texel sheep were accidentally born to a purebred Texel dam and sire. The unique coloration was of immediate interest to breeders who made deliberate matings to encourage expression of the recessive gene. By the year 1983 there were 11 flocks of Blue Texels in Holland, numbering 213 total "blue" colored Texels.
Staboek Blauwe Texelaar was the first breed society for the Blue Texel. Today, the breed's numbers have risen to more than 6,500 across 250 different flocks.
To encourage genetic diversity the Blue Texel Society continues to register Blue Texels born to white Texel parents.
Now the breed is becoming popular abroad. Today Blue Texels are also present in the UK. Here, it's the product of importation and registration of Blue Texels born to white Texel sheep in British flocks.
About Blue Texel Sheep: What Makes Them Unique?
Blue Texels are similar to their white ancestors. The primary difference is that they express a beautiful "blue" (Abl) coloration pattern. This is the product of a recessive gene. It's thought this gene may be associated with higher fertility as well.
The distinct coloration can vary from sheep to sheep. Even so, they should not be wholly white or wholly black.
What do Blue Texels Look Like?
Often the Blue Texel's dark head, ears and legs will have white markings which are symmetrical. Additionally, Blue Texels frequently exhibit lighter wool on their flanks with darker wool on their shoulders and belly.
Can a White Sire & Dam Produce a Blue Texel?
Two white Texel parents with the recessive "blue" gene have a 25% chance of producing this coloration in their offspring. Any breeding between two like-colored Blue Texels will produce lambs of a similar coloration.
Why Raise Blue Texels?
Farmers value Blue Texels for their competitive rate of gain, just like their white ancestors. Also, they're a popular choice as terminal sires – particularly for natural colored or crossbred sheep breeds.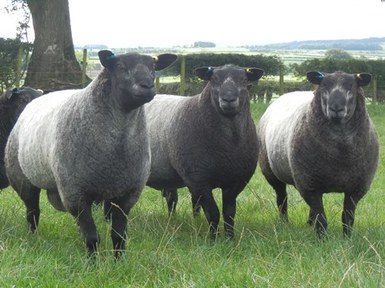 Blue Texel ewes have excellent mothering ability. Their slightly narrow heads contribute to easy lambing. Blue Texel lambs are often vigorous and shepherds who raise this breed often note their ability to stand and nurse immediately after delivery.
To learn more about the Blue Texel breed or to find a breeder near you, visit the Blue Texel Sheep Society website.