Our helpful guide to sheep fencing costs offers a short but thorough overview of some of the most popular types of fencing for sheep used by shepherds today. On this page you will find a short description of each type of fence, a rough estimate of the cost of materials to build each type of fence in the United States and some photos and practical advice to help you choose the best fencing option for your budget and your flock.
While a large and permanent sheep fencing installation can be expensive, a productive flock of sheep which is safe from predators year after year can quickly pay for an investment in a high-quality permanent perimeter fence. If you only have a small number of sheep don't worry! We'll cover some appropriate, easy-to-install, budget-friendly options that work really well too.
Get Your FREE Rotational Grazing Guide
This 16-page PDF is packed with our best information and tips to start increasing forage quality 30-70% in your pasture.
Discover the science behind rotational grazing.
Learn how you can improve forage quality and quantity.
Discover creative ways you can manage your grasslands.
Get helpful tips that can help you cut feed costs for your flock.
Understand the trade-offs in switching to rotational grazing.
Sheep Fence Menu
If you already know what you'd like to learn more about, click to jump to the section of this page that you're interested in and read about any of these popular fencing options.
Or keep scrolling if you'd rather learn all about the different styles of fencing for sheep, their advantages, disadvantages, and cost.
Featured Temporary Sheep Fence Product
In addition to the traditional sheep fencing options listed in detail below, we wanted to highlight the Gallagher Smart Fence product – a new, easy-to-use temporary fencing solution manufactured by the well-known fencing retailer Gallagher.
This portable fencing solution allows you to segment your paddocks for rotational grazing, create temporary paddocks and more. Combine with a small, portable electric fence charger and you'll have an inexpensive all-in-one sheep fence solution.
Sheep Fencing Cost Comparison (estimates, scroll down for more detail)
Welded Wire Sheep Fencing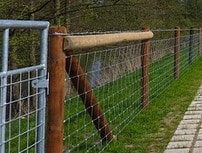 Approximate Cost: $1,194 for 1 acre
High Tensile Electric Fencing for Sheep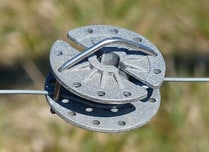 Approximate Cost: $1,930 for 1 acre
Plastic Mesh Electric Fencing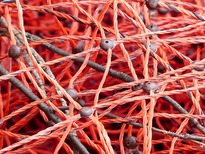 Approximate Cost: $906 for 1 acre
Polywire Rope Fencing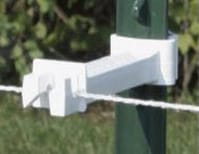 Approximate Cost: $983 for 1 acre
Welded Wire Fencing for Sheep
Welded wire fencing is an excellent choice for strong, sturdy, long-lasting perimeter fencing.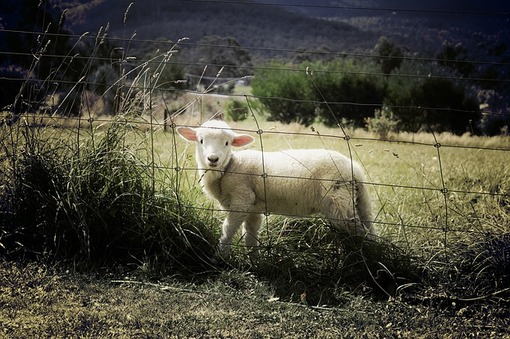 Typically this style of fence is purchased in a large roll which can be attached to a corner post and then pulled tight and stretched along the fence posts with a tractor, come-along or a welded wire fence stretcher.
Occasionally a strip of barbed wire or high tensile electric fencing is attached near the bottom and/or top of the fence to help keep predators at bay.
Potential Drawbacks of Welded Wire Sheep Fencing
While this style of fencing is great for sheep, it can be a bit time-consuming to construct and, if it does ever break (usually this will only happen if you drive into it with a tractor, truck or if a tree limb falls on it) repairing, patching or doing other maintenance can take extra time as well.
This difficulty can be offset, however, by the reality that if properly constructed a welded wire sheep fence can last for 10-15 years or more with zero maintenance.
Installation for a welded wire fence is really a two person job so you're advised not to try to muscle a heavy roll of wire by yourself, even if you have a tractor to help you move the roll to the installation location.
Things to Consider When Installing a Welded Wire Fence for Your Sheep
Be sure to consider the height of the fence relative to the surrounding area.
If you are fencing alongside a road on the downward slant you'll want a slightly taller fence to deter dogs and other potential sheep predators from jumping over the fence to chase your flock. You will also want to consider whether your welded wire sheep fence will be running along relatively flat or irregular ground.
Unlike a high tensile electric perimeter fence, it's more challenging to get a welded wire fence to pull tight along the ground if there are a number of irregularities. Gaps below the wire will present potential risks as entry points for predators or exit points for curious lambs so consider stretching a single strand of electric wire with a strong charge along the bottom of your welded wire fence if this is an issue.
You should also be aware that if you're fencing alongside a road and live in a place with heavy snowfall during the winter that the plow will often push snow into your welded wire fencing. It's common to experience sagging after a long winter so you can anticipate having to re-stretch and tighten roadside runs during the spring.
Take this into account when you staple your fence to fence posts.
How Much Does 1 Acre of Welded Wire Fencing Cost? (estimate)
3 Rolls of Red Brand Woven Wire Fence – $480
Your local Tractor Supply Company will usually carry this and I recommend buying it locally to avoid shipping charges. 3 Rolls will leave you with some left over to use in the future for patches or additional fencing.
26 Pressure Treated 4″ x 4″ x 10′ Posts – $338
Purchased locally at your Home Depot or Lowes – alternatively cedar posts work well. This is enough for 4 corners and to create one gate in the middle of one side of your pasture.
75 x Steel T-Posts – $285
Picked up at your local Home Depot or Tractor Supply Company retailer – these will support the fence between corners/gates.
(Recommended) Pajik Welded Wire Fence Stretcher – $130
While this isn't 100% necessary I highly recommend this as it allows you to get a nice tight installation that will last for years. Attach the fence to a truck or tractor and pull!
1 lb. Galvanized Fence Staples – $4
Great to attach the fencing to your corner posts.
100-pack of 11 in. Commercial Tie-Wraps – $10
A great quick way to attach your fence securely to your T-Posts. Easy and inexpensive to replace annually as needed, but they hold up well.
1 x Post Hole Digger – $25
Average cost at Home Depot/Lowes
TOTAL: $1,194 to Fence a Square 1 Acre Paddock with Welded Wire Sheep Fencing
**Note that this total does not include the cost of a steel gate for this 1 acre paddock, and that the cost of this style of fencing diminishes when you fence in a larger area (fewer corners/gates). There are also some ways to cut cost (Home Depot or Lowes often offer a lower-cost welded wire fencing product but I really recommend the Red Brand as it's the best quality and stands the test of time. Purchasing a quality fence stretcher is a worthwhile investment – not only will it make the installation of your welded wire fence easier, but it will help you extend the life of your fence (each spring you can quickly pull each length of fence tight again and tack in a new row of staples … this can help keep your corners solid and allows your fence to remain functional and sturdy for years. Optional additions are a strip of electric or barbed wire along the bottom of your fence to deter predators and if you feel like creating a very permanent welded wire fence which will last for years you can invest in additional pressure treated or cedar posts (pictured above) instead of heavy duty steel T-posts. While more expensive than some fencing options and more challenging to install, this is an extremely secure style of fence which is very effective for containing sheep and deterring predators.
High Tensile Electric Fencing for Sheep
High tensile electric fencing is a sturdy, highly conductive style of perimeter fence which carries a strong enough charge to effectively contain sheep and deter predators when well maintained.
Typically galvanized steel, each run of high tensile electric fencing will have a tensioner (one style pictured at left) for each strand as a means of easily maintaining this fence (tightening it periodically as the fence naturally sags over time). Generally this style of fence is installed for sheep with either 5 or 7 strands depending upon the installation environment, your budget and the threat of predators.
The advantage of installing high tensile fencing as a perimeter fence around a large pasture is that it allows shepherds to easily strip their pasture into smaller paddocks to use for effective rotational grazing, increasing the health of their pasture.
Potential Drawbacks to Using High Tensile Electric Fencing
Overall I'm a huge proponent of this style of fencing and if I was investing in sheep for the long-haul I would certainly choose this style as one of the core elements of my perimeter fencing.
While this style of fencing can be challenging to work with and time-consuming to set-up and build initially, it's easy to maintain and lasts a long time.
Growing up, we installed this for our cattle and sheep on my family farm and having Gallagher high tensile fencing surrounding our large pastures allowed us to easily use plastic mesh temporary fencing and polywire strip fencing (both of these are covered in-depth lower on this page) to sub-divide our pastures and maintain the health of our grasslands through proper rotational grazing.
Installation certainly won't happen overnight … expect to invest some time to set up this style of fencing. It's worth doing it right to make it last.
Costs of a High Tensile Electric Fence for Sheep (1 Acre Paddock)
Since there are so many more products required to assemble a high tensile electric fence relative to the alternatives here, we used Zareba's online fence planner to build a shopping list of products. Other sites like Gallagher have similar tools available and if you have questions we recommend that you contact your local rep or send us an email and we'll be happy to point you in the right direction.
This is what our Zareba shopping list looked like for a 1 acre, 5 strand high tensile perimeter fence with all the bells and whistles … we hope this offers a quick ballpark glimpse of what a high tensile electric fence may cost relative to some of these other styles, but please remember that this is a fence style which is designed to surround large sections of grassland so the bigger the area you plan to fence, the lower your cost per foot will be.
Shopping List
5 x Zareba High Tensile Wire (1,000 ft, 12.5 Gauge) – $587.95
5 x Fi-Shock Heavy Duty In-Line Strainer – $20.15
10 x 10″ Galvanized Brace Pin – $50.40
10 x 5″ Galvanized Fence Brace Pin – $35.90
1 x Six-Foot Galvanized Ground Rod – $53.97
Brass Ground Rod Clamps – $13.99
Multi-Purpose Fence Tool – $17.56
3 x Zareba 50′ Underground Cable – $79.17
4 Slot High Tensile Fence Wire Crimping Tool – $39.56
Gritted Crimping Sleeve (100 Count) – $19
Lightning Arrester – $17.16
Round Strainer Handle – $30.82
7 x Zareba Yellow Pin-Lock T-Post Insulator – $62.93
Zareba 10-Mile AC Low Impedance Charger – $108.74
5 x Large Fence Tension Spring – $35.00
5 x Wrap Around Insulator – $65.60
1 x Package of 4″ Fin Tube Insulators – $15.55
2 x Package of Zareba Round Metal Strainers – $52.78
26 x 4″ x 4″ x 10′ Pressure Treated Posts from Home Depot – $338
75 x Steel Heavy-Duty T- Posts from Home Depot – $285
TOTAL: $1,929.23 to fence a square 1-acre paddock
** Please keep in mind that the relative cost of fencing more of your pasture with high tensile electric fencing will be lower as this style of fencing is designed to be long-lasting and to secure extended stretches of field. Today's high tensile electric fencing products for sheep are designed to last 25+ years, making this an excellent investment if you plan to raise sheep for the long haul.
Our recommendation if you're just starting out is to go with a less expensive (and less permanent option), and when you're sure that you plan to maintain a flock for a decade or more, that's a great time to invest in a permanent, efficient high-tensile perimeter fence from Zareba, Gallagher or Parmak. There are links to each of these fencing suppliers under "Additional Resources" at the bottom of this page.
If you're considering building or repairing a high tensile electric sheep fence consider shopping Gallagher fencing. My first sheep fence was built with Gallagher products and it lasted over 20 years with very little maintenance. Click Here to Learn More
Plastic Mesh Fencing for Sheep
For smaller and temporary paddocks and rotational grazing setups for smaller flocks a good option is poly electrified mesh fencing. This style of fence (pictured left and below) is secure, highly visible to sheep and to predators, and comes with plastic stakes which allow for a secure, solid installation in a variety of soil types.
Rolls of this temporary fencing typically come in 50 foot lengths and mesh fencing for sheep is lightweight and easy to install and remove. Once installed it will stay in place for a month or more without issue, but it is easily moved once every couple of days if needed.
Potential Drawbacks to Using Plastic Mesh Fencing
The downside to this popular style of fencing is that it can sometimes become tangled when rolled up for storage, making it time consuming to unroll when you first use it in the spring.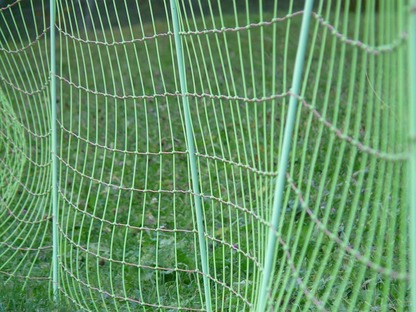 Despite this small nuisance, most brands of mesh fencing are very well-designed and can last for many years, making them an extremely cost-effective option for both large and small farms.
How Much Does it Cost to Fence 1 Acre of Sheep Pasture with Electric Mesh Sheep Fencing?
Solar Electric Fence Charger – $266
The Parmak Solar Pak-12 Fence Charger from Amazon is an excellent choice with good power, reliable performance and great reviews
5 x 164′ Sections of Plastic Mesh Fencing – $128/roll
Calculated based on Electric Sheep Netting from Premier 1 Supplies (Available on Amazon)
TOTAL: $906 to fence a square one acre paddock
**Keep in mind that one or two rolls of this style of fencing is enough to subdivide a large pasture or create a temporary area for a small flock of sheep to graze, moving the fence every few days so your sheep have access to fresh grass and don't overgraze your paddock. We recommend ordering the charger and several rolls of fencing as a package so you can get set up as soon as it arrives.
Tips for Selecting Electric Sheep Mesh Fencing
While there are many different colors and styles of mesh fencing available to shepherds, there really isn't a bad choice among them. When selecting the plastic mesh fence for your flock take into consideration the following:
Height – Electric fencing is mostly a mental barrier for sheep, but the height of the fence may be a concern if predators are a risk on your property
Structure – Consider whether the vertical strips between the stakes are made of mesh (orange & green fencing, pictured above) or made of rigid plastic (white, pictured above and to the left). Each style has some advantages and it might make sense to purchase a roll of each to see which you prefer working with
Length – How you will be using this fence will help you gauge how many rolls to order … we found it was always better to order an extra roll as once you start using this style of fencing you'll want to use it everywhere!
I have a guide along with some of my favorite products on this topic which you can read right here.
Electric Poly Rope Sheep Fencing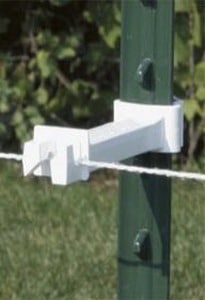 Poly rope or tape fencing is generally used as a cost-savings measure vs traditional electric perimeter fencing options. Alternatively, many shepherds use this inexpensive conductive poly wiring to segment their pastures for effective rotational grazing and pasture management.
While this style of fencing is not as durable as either galvanized steel electric fencing or welded wire perimeter fencing, the benefit to shepherds is how flexible and inexpensive it is.
We feel it's the best option for interior fencing providing your electric fence charger packs a good punch.
The primary drawback is that this brand of fencing isn't as long-lived as some other options, but this style of sheep fencing doesn't have to be quite as durable … during its short lifespan it's effective and it's cheap enough that buying more every few years is usually manageable.
Cost Estimate: 1 Acre of 5-Strand Poly Rope Electric Fencing
Solar Electric Fence Charger – $284
The Parmak Solar Pak-12 Fence Charger from Amazon is an excellent choice with good power, reliable performance and great reviews
4 x 1320′ Rolls of Poly Electric Wire – $33.50/roll
Calculated based on Gallagher White 6 Wire Mono Poly Wire
100 x Heavy Duty Plastic Fencepost – ~$3/post
Based on one fence post every 8 feet and based on the price of the Gallagher Heavy-Duty Tread In White Fence-Post, 42″. The bulk price on these tends to be better.
20 x Hot-Rope Corner Tensioners – $9/each
Cost based on Powerfields Hot Rope End Corner Tensioner.
4 x 4″ x 4″ x 8′ Pressure-Treated Lumber – $10/per
Price based on average cost at Home Depot/Lowes
1 x Post Hole Digger – $25
Average cost at Home Depot/Lowes
TOTAL: $983 to fence a square one acre paddock
**The package detailed above includes enough electric poly rope to run 5 strands of fencing around one square acre of land with a few plastic fence posts and plenty of poly rope left over to enlarge the pasture slightly if need be. Often this style of fencing is used to segment a large, permanent galvanized steel electric perimeter fence and if this is how you plan to use it then you can expect to pay even less (you won't need the corner post materials listed here). We recommend ordering the charger and several rolls of fencing as a package to enjoy free shipping and additional discounts based on volume. You can order the items online by clicking the relevant links above.
Traditional Sheep Fence Options
While these sheep pasture fence options are for large spaces, around your barn or shed you'll likely use more traditional options including wooden fence panels or lightweight (but strong) tubular metal gates and panels (often constructed of steel or aluminum).
Smaller sections of fencing are a great choice for creating holding pens, lambing jugs or small paddocks as they allow for flexibility, are easily moved and when it comes time to clean out your barn you can simply take the barn fencing down and clean out the bedding with your tractor or a rented skid-steer.
Here are a few of my favorite places to purchase gates and metal panels for containing and handling sheep:
Some of the Most Popular Electric Fence Chargers
Luckily these days electric fence chargers are durable, powerful and affordable, allowing farmers to select from a variety of chargers to suit their unique needs.
While there are many good ones here are a few of our favorites with a short explanation about what we liked about each charger: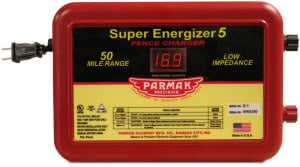 Parmak is one of the most trusted names in electric fencing equipment and their Super Energizer 5 Fence charger is equipped to successfully charge up to 50 miles of high tensile electric fencing.
A solar fence charger is a great option for portable/temporary sheep fencing or for use on open ranges where access to regular electricity is limited. This Parmak model is one of our favorites.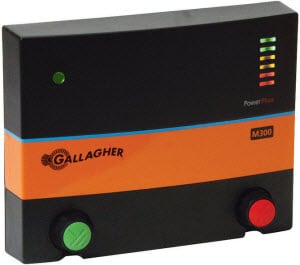 My first sheep fence was built with 100% Gallagher products and everything from the charger to the high tensile wire lasted well over 20 years without issue. I trust their products and gladly recommend them whenever I'm asked.
Additional Useful Resources
Zareba Systems has a very cool electric fence planning resource which leverages satellite imagery to allow you to completely map and customize your fence based on actual images of your property. Whatever you decide to use for products, this tool is worth using. Their printable PDF fence planner is also great.
Gallagher also has a useful sheep electric fence planning page which helps you determine the correct spacing for a high tensile electric fence for sheep. Their PDF guide to fencing for sheep is very detailed and informative.
Parmak offers a very concise guide to planning how many supplies you'll need to purchase for your fence based on the distance you'll need to fence. The graphic and table provided on this page is a pretty helpful quick-reference, as is the rest of their installation guide.
If this page has been a useful resource to you as you plan your sheep fencing or research options please share it with others or consider adding a link to it on your farm's site so others can find it! Thanks for reading and please take some time to explore our other in-depth articles, sheep equipment reviews and resources.