If you're a handspinner, or are interested in felting wool, then one of the tools you may want to invest in is a drum carder. This simple, table-top device allows fiber artists to use raw, washed, or dyed wool to create beautiful, carded bats of wool that are ready to spin. Fiber artists love using drum carders, because it is easy to create beautiful bats of wool, or wool blends … combining unique colors and wool with different natural fibers (silk, alpaca, etc.), to create truly unique wool products.
In this article we'll cover the basics of how to use a drum carder (with a helpful video guide), and we'll also provide links to a few highly reviewed drum carders which are available to purchase online so that you can choose the best drum carder for you.
What is a Drum Carder?
A Drum Carder (or Wool Carder), is a simple tabletop device which cards wool and other fibers to prepare them for spinning or felting.
Carding is a mechanical process that disentagles, cleans, and intermixes wool fibers to produce a continuous web of wool fibers which is ideally suited for processing.
Drum carders use two cylindrical drums covered with coarse or fine metal "tines" which rake through the wool to comb the wool into a uniform wool "bat" which can be spun into yarn or which can be used in your wool felting projects.
While larger farms producing a lot of wool may send their raw wool to a mill to be made into roving, small fiber farms and fiber artists that love to create unique blends of wool for their projects consider their drum carder to be an indispensable piece of equipment for their hobby or business.
Why Use a Wool Drum Carder to Prepare Wool?
One of the advantages of a mechanical drum carder over traditional hand cards, is that it is easier to process both raw or washed wool into uniform, beautiful wool bats.
With a drum carder, it is also easy for fiber artists to be creative and produce interesting blends of dyed wool colors, or to mix wool with silk, alpaca, or other fiber products to create truly unique and ultra-soft wool-based clothing products to wear or to sell.
Video: How to Use a Drum Carder
In this short video, fiber artist Jill Shepherd walks you through using a drum carder to create the perfect bat of wool – prepared for spinning or felting.
Our Picks for the Best Wool Drum Carders for Handspinners
If you have already selected the best spinning wheel to suit your needs, then choosing a reliable drum carder is probably your next major purchase. The right drum carder, properly maintained, can last a lifetime and will hold its value should you ever decide to sell … making it a good investment.
To help you choose the best drum carder for your professional or hobby fiber projects, we've provided links to a few of the most reliable brands (Strauch and Ashford) and their most popular drum carder models below.
These can be purchased online on Amazon for fast shipping and the peace of mind that comes with their return policy, or from The Woolery – our favorite independent retailer for fiber artists.
Strauch Drum Carders for Sale
Made in America, the Strauch brand has emerged as one of the most popular for fiber artists in the USA and around the world, rivaling more well-known brands like Ashford and Louet. The Strauch "Finest" Single wide, chain drive carder is the company's flagship product. Made of solid ash with a Watco Danish oil finish, this drum carder has a large 7″ diameter drum which is 8 1/4″ wide. The small drum is 2″ in diameter, and slightly narrower at 8″.
Wool batts produced by this high quality drum carder will be 8″ wide and 22″ long. What I like most about this drum carder when compared to others is its tall frame. Many drum carders must be mounted on the edge of a table to allow the handle to swing freely – not true with this taller model, which can be centered in a table or craft desk while you work. This wool carder works with all fibers, including Merino, Llama, Alpaca, and blends of Cashmere, dog hair, and other exotic fibers. While it is expensive, it's a product that will last a lifetime if properly cared for. Highly recommended.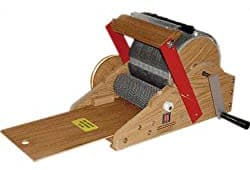 Just like their "Finest" drum carder, this petite model from Strauch Fiber Equipment is constructed with solid ash with a tall frame for easy carding no matter where you position this carder.
This small drum carder has a 16″ long x 10″ wide x 7″ tall frame, making it perfect for transporting to fiber shows and festivals to use as a demonstration and to attract visitors to your booth. This small drum carder comes pre-assembled and ready to use right out of the box, and like the larger model from Strauch it can be used on fine, medium, and coarse fibers.
The Petite is a manual-drive drum carder with a heavy-duty polyurethane drive belt and it produces a batt which is approximately 6 1/2″ wide and 22″ long. Strauch includes a "knuckle-saving" batt-pick with your carder, in addition to a doffer/cleaner brush to prepare your fiber for use with the next fiber and color combination you intend to card. Also included with the petite model is a dabber brush to use on the licker drum and a heavy-duty clamp to secure your drum carder to your craft table or work surface.
Ashford Drum Carders for Sale
If you're looking to process a lot of wool and fiber products very quickly, then the Ashford 12″ Wide Drum Carder is just what you're looking for. It produces gorgeous 12″ wide batts of beautifully carded fiber, allowing you to create truly unique and colorful rainbow blends of dyed wool.
The Ashford 12″ Drum Carder is (in our view) more attractive than the Louet drum carders, as it is made from lovely silver beech hardwood which is lacquered for a beautiful finish. The nylon bearings allow for easy turning with the hand-crank, at either a 4:1 or 6:1 rate of operation.
Ashford's 9″ Drum Carder is available with either coarse or fine teeth, depending upon what sort of wool carding you will be doing. Their standard-size carder is 1.5″ wider than Louet's version, making it capable of processing more fiber and creating larger batts for just slightly more money. If you're deciding between the two, I prefer the Ashford carder for this reason, and because I love the solid-wood, lacquered appearance of the Ashford carders.
The 9″ wool carder from Ashford comes with clamps, an awl/doffer, rubber feet to prevent slipping and protect your work surface, and arrives lacquered and pre-assembled so you can begin enjoying it immediately!
The Ashford Wild Drum Carder is designed specifically for blending and creating – perfect for the fiber artist who loves to create unique, fun, and funky wild batts of wool for handspinning or felting.The carding width is 4″, making it fast and easy to create perfectly sized batts of roving that are ready to spin.
The Ashford Wild wool Carder is portable and compact, with a well-designed hand-hold for easy transportation to and from your fiber festivals and spinning events. It comes fully assembled and lacquered, and this product includes a cleaning brush, doffer (awl), clamps, and a built-in adjustable packer brush.
What's the Best Drum Carder for Your Home or Fiber Shop
While any of the wool carders included in our list will function well, selecting the perfect drum carder for your home or fiber shop is a decision that should be guided by how you answer these three questions:
​ What type of fiber will you be primarily working with? (Coarse Wool, Fine Wool, or Super-Fine Fibers such as silk, mohair, and alpaca)
Do you need a packer brush on your drum carder? (Helps to pack more fibers onto the drum, creating thicker batts — this is very helpful if you work with fine, low-crimp fibers like mohair, angora, alpaca)
What size drum carder should you buy? (How much processing do you plan to do, and what size wool batt do you prefer to work with?)
The good news is that if you take good care of your wool carder, your drum carder should last a lifetime and retain its value … so even if you eventually decide you'd like a larger or smaller model, it's very easy to re-sell your wool carder locally for about what you paid for it, making it an excellent investment.
This article was originally published in November 2017 but has been updated for 2021 to reflect the latest products and information.