If you're considering raising sheep for show, or just want to make handling them easier around the farm, then investing in a sheep stand is a necessity. A blocking stand for sheep is designed to raise the animal off the ground, hold their head safely, and allow you to trim hooves, administer shots, and prepare it for the show ring.
In this article we'll discuss some of the features you should look for (or consider) when selecting a sheep trimming stand, and we'll also offer a brief profile of two budget-friendly sheep fitting stand options which are available for purchase online with free shipping.
Considerations When Buying a Blocking Stand for Sheep
There are three primary factors which I recommend considering before purchasing a sheep stand for your farm. These include:
Size – When selecting a sheep fitting stand for your flock it's important to consider both the size of your animals, and the size of the primary user. If you're purchasing a stand for smaller sheep breeds, a sheep stand with longer legs is helpful as it will raise the animal off the ground and help you avoid bending while you're working. With larger breeds, a longer stand with shorter legs is ideal, as this will allow for plenty of room for large rams, and it will keep the animals low enough that you can reach their back and neck to prepare them for show.
Construction – Choose a stand which is made of steel, or very sturdy aluminum. These materials are proven to hold up well. There's a trade-off with each type of material … steel is heavy, and can rust if not maintained, but otherwise it's very sturdy and will support even the largest of animals. Aluminum is lightweight and will not rust, but it can bend and warp if it isn't a heavy enough gauge, or if it isn't carefully handled. I recommend avoiding wood or DIY sheep stands. While you can save some money up front, they quickly rot and warp and they tend to be more difficult to move.
Extra Features – There are many options for sheep stands, and while it's tempting to buy the fanciest model with all of the bells and whistles, be honest with yourself about how often you plan to use your stand, and weigh the extra cost against investing in a new pair of sheep shears, or other useful equipment.
Know Your Options
Additionally you should pay careful attention to and consider the following options when selecting a sheep shearing stand:
Headstand Construction – Select a headstand which is sturdy, and which is sized appropriately for your sheep. Choose one that is easy to adjust up or down to accommodate young lambs and mature rams comfortably.
Folding Legs – You won't have your sheep blocking stand set up constantly. That's why I recommend choosing a model with legs which fold up securely. This frees up space in your barn, and makes it easy to transport.
Winch – If you show at a number of fairs, and are regularly setting up your sheep shearing stand for extended periods of time, this expensive feature is nice. It allows you to lower the stand to make it easy for sheep to walk on to it. Then, once they are secure, you can raise the stand to the appropriate height with a winch. These stands tend to be expensive and very heavy. They also take up a lot more space than traditional folding stands.
Side Rails – This add-on is nice for training sheep to use a stand, but they are generally only available on more expensive stands. I've personally never had this feature, because when I was trimming sheep for show the last thing I wanted was to have them lean on a bar after I spent 30 minutes carding their wool and trimming them. So I consider it a bit of a luxury for farm work on your stand.
DIY Sheep Stand vs Buying a Budget-Friendly Trimming Stand
While it isn't difficult to build your own sheep trimming stand from plywood and 2×4 lumber, my advice is to purchase an entry-level aluminum or steel stand with folding legs.
This will save you some time up-front, and you'll be glad to have a folding stand at the fair. A metal stand will last for years, unlike a wood stand.
For under $300 you can purchase a very high quality stand which will last you and your family for years.
Entry-Level Sheep Stands for Sale Online
Here are a couple of quality sheep blocking stand options from Weaver Leather and Premier. Each can be purchased from Amazon.
I like the price-point of these models for beginners. I've seen this style of stand hold up for many years, lasting 4H kids for their entire tenure showing sheep.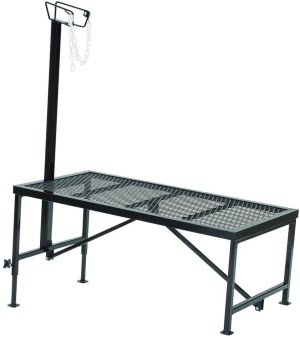 This very affordable steel sheep stand from Weaver Leather features folding legs which can be secured for easy transport, wide pads at the base of each leg, which makes the stand tip-resistant, and it is powder-coated to help prevent rust.
The headpiece is adjustable and comes with a sturdy plastic chain to avoid marking your sheep's wool.
The front legs of the stand are adjustable, so you can keep this on an incline if desired to train your sheep to brace for the show ring. This is a great entry-level fitting stand that will last most 4H kids for years.
Slightly more expensive than the steel version above, this aluminum sheep stand for sale on Amazon is also a great value.
Its legs fold up conveniently, and the aluminum construction makes it lightweight but very strong.
The solid chin-rest helps to keep your animal feeling secure while on the trimming stand. This measures 19″ high in the upright position. This is a comfortable height for most shepherds. At just over two feet wide and four feet long, this stand is large enough to accommodate most breeds of sheep.
Premier 1 Supplies makes some of the finest show lamb products on the market, and you can buy this stand with confidence, knowing it's well-made and will last for years.
This stand will raise your lamb 22″ off the ground, and it's 4 feet long and 20″ wide. I like the design of the headpiece, which does not place your sheep's head at an incline. This allows the animal to stand comfortably in a natural position while you work on it. I also like the carrying handle on this stand, which folds down when not in use. It makes transporting this folding sheep trimming stand very easy and comfortable.
Final Thoughts on Sheep Stands
Whether you're looking for a budget-friendly, entry-level sheep stand for your little one's first 4H sheep project, or you're thinking of investing in a large stand with all the bells and whistles for your farm, you'll find that choosing a well-made stand that lasts a long time is a great investment.
My best advice if you're staring out in sheep is to consider one of the three entry-level sheep trimming stands linked above. If you find that you grow into something larger/professional, you'll be pleased to know that these models hold their value really well. Often you'll have little trouble re-selling them locally to members of your county's 4H sheep club.
You May Also Be Interested In: