Choosing the best set of sheep shears for use around the farm or at the fair is important. After all, it will be one of the larger investments you make on sheep grooming equipment & supplies. To help you choose the best sheep shearing clippers to suit your needs we've assembled this list of what we consider the 5 best options for electric sheep shears on the market today. We take into account performance, price and durability.
Our Picks: The Best Sheep Shears
Favorite Alternatives
These electric sheep shears are typically in stock and available for sale on Amazon (and that's where the links take you).
3 Important Things to Consider When Purchasing Electric Sheep Shears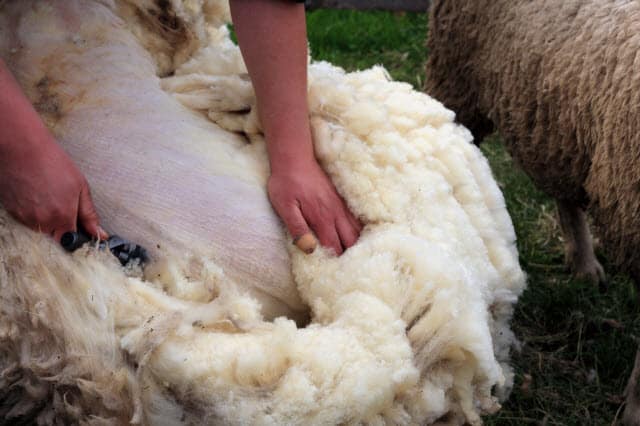 What Will You Use Them For? It may sound like a no-brainer, but the best sheep shears for preparing slick-shorn southdowns or club lambs for the show ring are different than the electric shears you'll want for blocking Hampshires, Suffolks or for shearing long wool breeds on the farm. The top shears on our list may not be the best sheep clippers for you.
How Often Will You Use Them? If you use your shears regularly or are competitive in the show ring and attend numerous livestock shows and competitions it makes sense to invest in top-of-the-line electric shears. If not, consider a less-expensive option.
How Old & How Strong is the Primary User? If you're purchasing sheep shears for a child you may want a smaller, lightweight option that are comfortable to use.
Our Choice for the Best Over-All Sheep Shears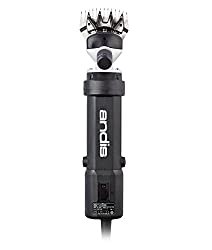 While these are the most expensive shears on the list, like many things in life you get what you pay for. The Andis Heavy Duty Sheep Shears are durable, high-powered (220w) and run cool. Their rugged plastic case is comfortable to grip whether you're shearing sheep on your farm or you're prepping a flock for the show ring.
Oster & Andis combs and cutters fit these shears and they come with a durable carrying case, wrench, Ovina comb and Cobra cutter, making this package a great value for newcomers or professionals.
[UPDATE] – The Andis Heavy Duty Sheep Shears listed above as our top choice are no longer manufactured, but remain our favorite shears. We encourage readers to consider either of the Oster models listed below as reliable alternatives.
We've also tested the Premier 4000c Clippers (pictured) in 2017/2018, and have been very impressed with their performance and reliability. If you choose the Premier 4000c Clipper Package, consider purchasing the coarse blade set as well, which compliments the fine blades that come with the shears.
Lister blades are also compatible with the Premier Clippers and the sheep shearing blades detailed in our guide will work with the newly released Andis shears (which we have not tried, but our older Andis shears are still going strong and this has been our favorite brand of shears), or the Oster Shearmaster and Oster Showmaster clipper models recommended below.
Other Great Electric Sheep Shearing Clippers (ranked)

As some of the most affordable electric shears on our list, this is a value pick both due to their affordable price-point and based on the quality of the machine that you'll receive for the purchase price. Oster makes great shears that last a long time if well cared for, and their Shearmaster single-speed model comes with a durable toolbox carrying case and a bright orange/yellow case which is easy to see and comfortable to grip.
At 150w the Shearmaster single-speed clippers from Oster are less powerful than the Andis clippers but these are capable of getting the job done. You may notice that these are the clippers used in the Penn State Extension video featured in our How to Shear a Sheep blog.

Similar in size, weight and quality to the Shearmaster Clippers mentioned above, the Oster Showmaster Variable-Speed Clippers offer shepherds additional control and precision. Depending upon your usage you can adjust the speed of the cutters from 700 to 3,000 cutting strokes per minute, allowing you to keep your shears running cooler longer and thus improving the comfort of your sheep.
I love that these shears include a rugged 15 foot cord (allowing you to often use them without relying on a tangled extension cord).
These are a great middle-of-the-road choice and are ideal if you primarily use your shears for blocking and trimming sheep for the show ring. I used a pair of showmaster shears for years on my farm preparing both Hampshires and Romney sheep for show, and for general farm use and shearing purposes. They work very well.
One note – please do not confuse the Showmaster shears with the Clipmaster shears from Oster. The clipmaster shears are a different product and aren't something that I recommend for use with sheep.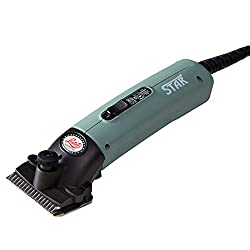 Offering you a steady, permanent speed and an affordable price point (well under $300), the Lister STAR Grooming Sheep Clippers are more compact, lightweight and user-friendly than many other sheep clippers on the market today (and certainly they are smaller than any of the other sheep shears on this list).
Our choice for kids and adults who are new to preparing sheep for show, these are good entry-level grooming shears but really aren't for shearing sheep in their entirety (though they are excellent for finish-work and slick-shearing club lambs for show). Their "Permanent Magnet" motor is unique and helps these clippers to run cool and quiet, maintaining a steady number of cutting strokes per minute.
These shears can be used with many different Lister Combs & Cutters to allow for flexibility, but if you're looking for versatile shears which can be used to prepare sheep for show or for shearing heavy wool on the farm I recommend the Oster or Andis brands above. The Lister LEGEND shears (below) feel more substantial and to me seem to hold up to prolonged use better than these STAR clippers, but the low price of these sheep grooming clippers gave them the edge in the rankings in this list of the best sheep shears.
To be honest I've never been the biggest proponent of the Lister clippers because I'd prefer to invest in a multi-purpose set of electric shears which can be used on the show circuit or around the farm, but the Lister Legend clippers certainly have their place in the sheep industry and they do work well for show-ring preparation. What I like most about the Lister Legend Clippers is that they are light-weight (great for kids), quiet (great for sheep who have never been trimmed before) and stay nice and cool during use.
Thanks to the rubber-mounted motor, these are the quietest shears on our list, and the cutters run at 3100 strokes per minute. In my experience you shouldn't expect a rubber-mounted motor to last quite as long as one that's made with metal gears, but the Lister Legend sheep shears will certainly last for several years if properly cared for.
Replacement blades are affordable and are available in a variety of sizes. The fine-toothed combs make Lister an ideal choice for finish-work for the show ring and for children (it's almost impossible to cut your sheep). I would recommend getting a 20+ tooth comb for a smooth finish on meat breeds and the included blade will work fine for rough blocking of sheep for show. At just over $300 these are a solid "budget" Lister clipper option for sheep.
Choosing the Best Sheep Shears for You
The perfect set of electric sheep shears for you and your flock will depend upon a number of factors.
If you aren't slick-shearing club lambs or Southdown sheep for show I'd suggest investing in one of the Andis or Oster models listed above as these are more versatile, allowing you to shear your brood ewes or to block and trim your sheep for the show ring. If you do raise club lambs, market lambs or Southdowns (or if you are helping your child learn to trim sheep for the show ring), investing in either set of the Lister clippers are an excellent choice. In my experience you can't really go wrong with any of the sheep shearing clippers featured in this list, but I invite you to weigh in and share your experience with any of these electric clippers (or suggest a different brand) by leaving a comment below.
One final thought I have is that there are a number of cheap knock-offs on some of the electric sheep shears mentioned on this list. Generally if you buy a set of electric sheep shears for $60-70 you'll find that they have plastic parts in the motor which will cause them to break after a few uses. My advice is to invest in a set of quality shears that will last for years with proper maintenance.
Editor's Note: This article was originally published in August, 2015. We have updated it in July 2021 to be more accurate, comprehensive, and relevant to our readers.
You May Also Like: Our Guide to Selecting Sheep Shearing Blades for Electric Shears