New to knitting or crocheting? There are many different types of yarn for knitting to get acquainted with. There are handspun and machine-spun yarns, as well as yarns made from different materials, such as wool and acrylic. Keep reading to find our complete guide to the different types of yarn you can use to knit.
In addition to covering the different types of yarn for knitting, how they differ, and the types of projects each type of yarn is best suited for, I'll also share some details about yarn weights and how to choose the perfect yarn for your knitting project.
Handspun and Machine-Spun Yarns
It's difficult to find handspun yarn today, especially in the general hobbies and crafting supplies market. Most commercially-available yarn, whatever the material, is machine-spun.
If you want handspun yarn, you'll have to look around for it. You may have to find a local handspinner who has some for sale.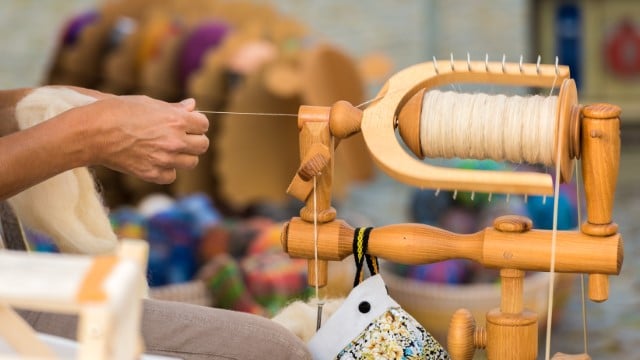 You should also be prepared to pay a significantly higher price, as the process is much more labor intensive. In fact, it's an artform.
One of handspun yarn's strengths is how the handspinning process is less likely to damage the wool. Also, handspun wool tends to be more durable and keeps more of its natural lanolin and other properties which make wool special.
There are some drawbacks with handspun wool yarn, though. One of these is how it is more likely to absorb dye unevenly.
Many people appreciate this when seen in rugs, but you might like it less in your clothing. If you ever want to invest in an expensive wool rug, consider looking for one made with handspun wool.
Wool Yarn
Wool yarn is made from sheep wool. There are other kinds of natural fiber yarn, such as alpaca and cashmere yarns, but here we are talking about sheep wool.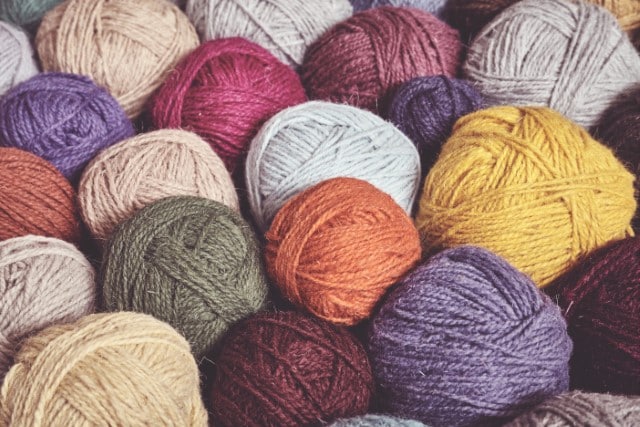 If you want to knit with a natural fiber, you will probably go with sheep wool, as it's not as costly as cashmere or alpaca.
Sheep wool is spun into yarn to make wool yarn. As long as you are not allergic to wool, sheep wool yarn is great for knitting many different kinds of clothing, such as sweaters, hats, mittens, scarves, and more.
If you love wool's characteristics but don't want to pay the price for pure wool, a wool and acrylic blend is something to consider.
Acrylic Yarn
Acrylic yarn is more affordable than wool yarn, but it's not a natural fiber and isn't breathable. Some people hate the feeling of acrylic against their skin.
On the other hand, though, acrylic yarn is durable and versatile, and there are many kinds of knitting projects you can use it for.
Acrylic is made from polymers that are derived from crude oil and petroleum products. One advantage of knitting with acrylic yarn is how many colors you can find.
You'll find a wide array of acrylic yarn colors, usually many more than you can find with wool.
Acrylic yarn is also extremely effective at retaining colors. In fact, today's acrylics are color-fast, and they're excellent at resisting color leakage.
Combined with being able to find whatever color or colors you desire, acrylic yarn is also affordable. When you go to shop for yarn, you'll probably notice that acrylic yarn is the most inexpensive one on the shelf.
You won't have to worry about durability when you knit with acrylic. Derived from petroleum, it's a hardy material that will last longer than other kinds of material.
Acrylic knit wool clothes and accessories have the additional advantage of easy laundering. You won't have to worry about all the damage that washing can cause to wool and other natural materials.
However, acrylic yarn does have some significant disadvantages. It isn't breathable, and it tends to retain moisture and unpleasant smells.
When it comes to knitting, one of acrylic yarn's drawback is how it sometimes fails to stay smooth.
If you want the affordability and other characteristics of acrylic while having some breathability and a softer feel, think about an acrylic and cotton blend yarn.
Cotton Yarn
Cotton is a breathable, natural fiber that comes from cotton plants. It's durable and comfortable, as well as effective at absorbing moisture.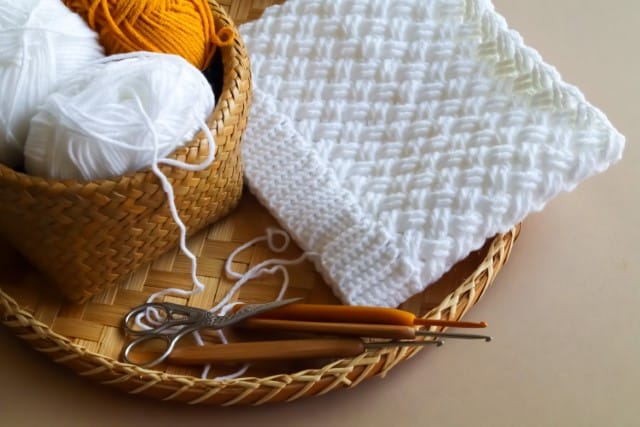 Cotton yarn is a great choice if you want to knit any kind of clothing for warm weather. It keeps you cool in the summer.
This kind of yarn is also great for complex types of knitting. It displays all your work to advantage.
There is one significant downside of cotton yarn for knitting, though. Garments made from cotton yarn tend to stretch out, sometimes quite dramatically.
So, you'll have to expect items made from cotton yarn to stretch out and even get a little sloppy looking after several washings.
Angora Yarn
Angora wool is taken from the Angora rabbit. As a luxury textile, Angora yarn is expensive (a rabbit can only produce so much!).
Many experienced knitters like using Angora wool yarn to make sweaters.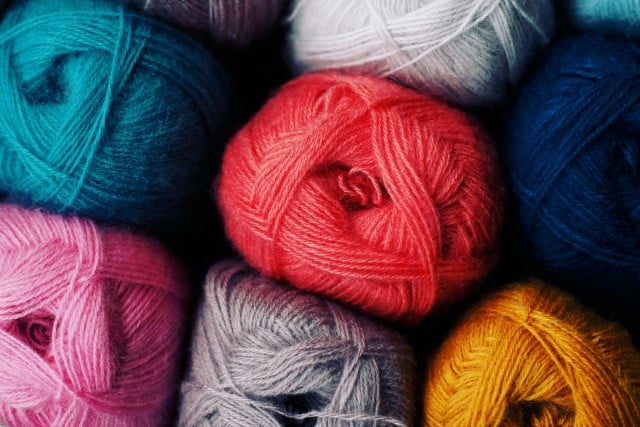 Angora is famous for its softness, but it's not durable. This is because it doesn't have very much elasticity.
In most cases, you'll find yarns where Angora is blended with sheep's wool and other kinds of materials. This helps make your Angora more resilient and long-lasting, as well as easier to care for.
Some fibers you will see blended with Angora are sheep wool and alpaca.
Alpaca Yarn
Alpaca hair is the source of alpaca yarn. This hair is spun into the yarn and is known for its softness.
Alpaca yarn is a fantastic choice if you want to knit an incredibly warm sweater or winter accessories.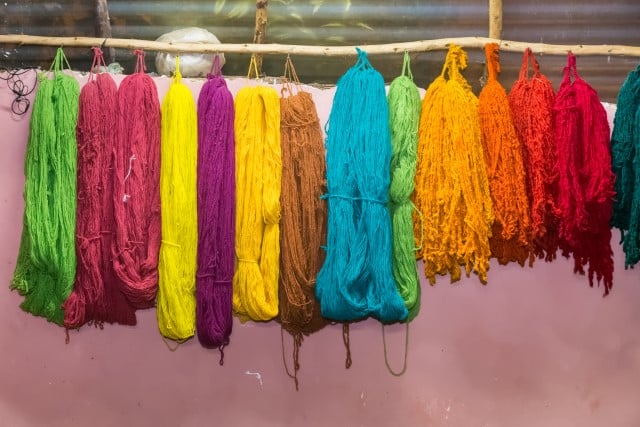 In fact, it has several times the warmth of sheep wool. It is also much more durable and resilient.
Again – you'll find that Alpaca yarn is considerably more expensive than sheep wool, so a way to stretch your dollar is to create a blend of the two fibers on a drum carder.
You can find alpaca yarn in many different colors. Some of these colors are natural, while others are dyed.
Alpaca yarn is excellent at absorbing and retaining dye.
Polyester Yarn
Polyester yarn is worth considering if you want a practical and affordable yarn that you can use for a variety of purposes. Many knitters like using polyester yarn for making clothing and blankets.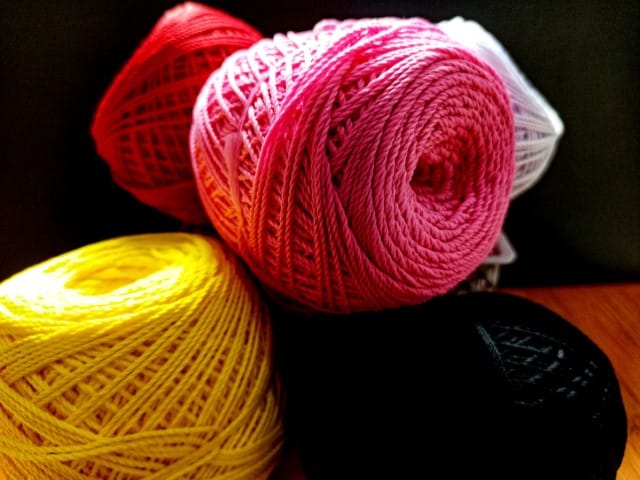 Many people with wool allergies like using polyester yarn. Be aware, however, that this is a synthetic material and therefore isn't breathable.
Polyester yarn and clothing made from it are easy to wash and care for. It is also great at retaining warmth, making it a good choice for winter clothing.
Rayon Yarn
Rayon is an unusual fiber in that it's neither synthetic nor natural.
In fact, it's a semi-synthetic material. It's produced with reconstituted wood pulp.
Many harsh chemicals are used during production, and that is why rayon isn't considered a natural fiber.
Rayon is durable but be aware it absorbs moisture much more than cotton.
You can usually find rayon yarn in many different beautiful colors. Rayon was originally developed as an alternative to silk, and it has a smooth and silky quality.
Mohair Yarn
Don't confuse Mohair with Angora. Some people do, as Mohair is taken from Angora goats.
Remember that Angora comes from Angora rabbits. Mohair is from the Angora goat.
It's remarkably silky and the fibers are long. Mohair yarn is shiny and lustrous.
You will often find yarn that has Mohair mixed with other fibers, such as Merino wool (a premium wool variety), regular wool, and silk.
Some items you might like to knit with Mohair yarn include scarves, sweaters, gloves, hats, and socks. It's wonderful for winter's cold weather.
While Mohair gives you all the excellent qualities of wool, it is more lustrous and feels lighter on the body.
RELATED: Sheep vs Goat Comparison (what is the difference?)
Cashmere Yarn
Cashmere is one of the most luxurious types of yarn. Buying cashmere is always an investment.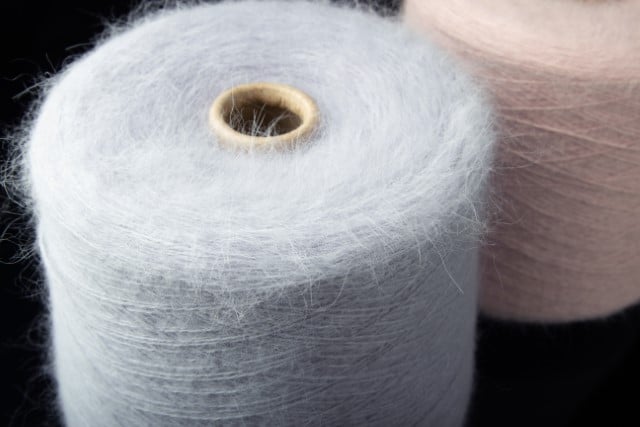 The cashmere goat is the source of cashmere fiber, which is famously soft and lustrous. Cashmere is quite fragile, so be gentle when knitting with this yarn.
Most knitters use cashmere only for small items, such as winter accessories.
Bamboo Yarn
Bamboo yarn is a great option if you're looking for something lightweight. As a natural and sustainable fiber, bamboo is lightweight and is absorbs moisture effectively.
Many knitters like using bamboo yarn for clothes because of how well it drapes.
Bamboo yarn is also highly environmentally friendly. Some types of knitting projects you will probably enjoy using bamboo yarn for include warm weather tops and summer sweaters.
Llama Yarn
Are you an alpaca fan? You'll probably like llama yarn, too.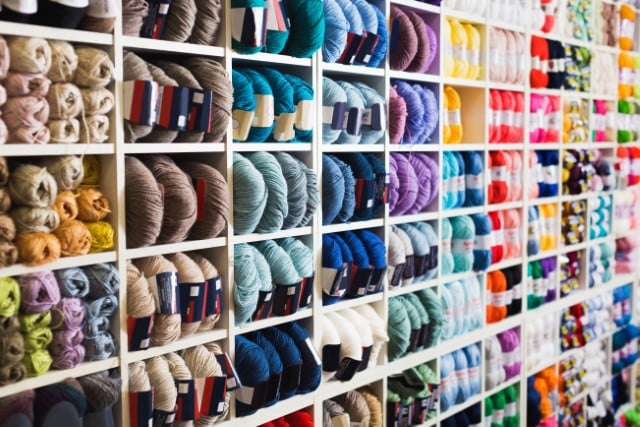 The llama's undercoat is finer than the coarse top coat, which is why yarn is often made from that part of the animal's hair. Llama hair is similar to alpaca in how it lacks lanolin and has a hollow structure.
This means it is a great choice if you're looking for a lightweight type of yarn that is still able to keep you toasty warm.
What are Yarn Weights?
When shopping for yarn, look at information on the packaging about the yarn weight.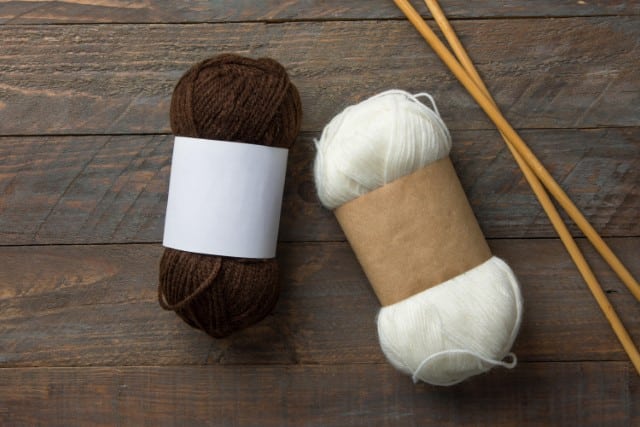 This is key in figuring out the kinds of projects you will use the yarn for.
After all, you won't want to use a heavyweight yarn for a warm weather garment. Likewise, if you want to knit a thick winter blanket, you will want a yarn with greater weight and warmth.
Let's take a close look at the different yarn weights below.
Fine Weight
Sometimes you will see fine weight yarn called sport weight. If your project is baby clothes or lightweight cardigans or toppers, a fine weight wool is an excellent choice.
Lace Yarn
Lace yarn is even lighter weight than fine weight. This is the kind of yarn to look for if you want to make something see-through, such as a bolero or shawl.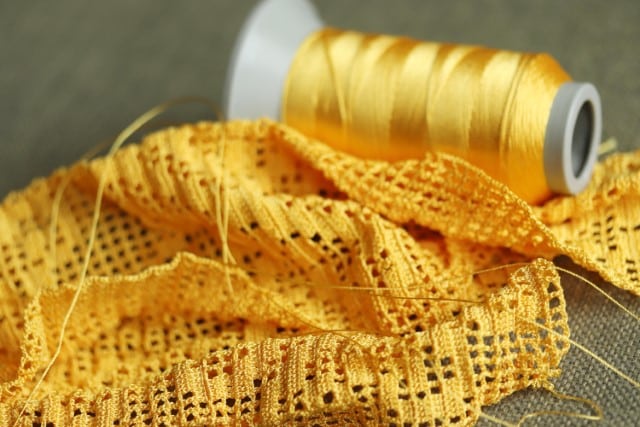 This is a delicate and almost ethereal type of yarn. You'll probably want to use larger needles if you want to knit with lace yarn.
These are needed to knit the kinds of details and patterns that people often like making with lace yarn.
Superfine Weight
Have you ever heard of "fingering weight" yarn? This is superfine weight yarn.
This is a little heavier than the lace weight. However, you still might like to use it when making the projects you make with lace yarn.
Superfine yarn is one to consider if you want to make a delicate knit.
Worsted Weight
Worsted weight wool is one of the most versatile types of yarn. In fact, some people refer to this simply as "knittable."
Worsted weight yarn has a medium to thick thickness.
Have you ever used sport yarn? It's twice that weight. Knitters hoping to create winter or outdoor wear usually go with worsted yarn.
Many thick sweaters are made with this yarn.
Super Bulky Weight
Some knitters call super bulky weight yarn "roving yarn."
This is very thick yarn and you will find it useful for creating items such as scarves and chunky sweaters.
Many knitters also use it for hats and cowls.
Bulky Weight
Give bulky weight yarn a try if you've taken a look at worsted yarn and it wasn't think enough.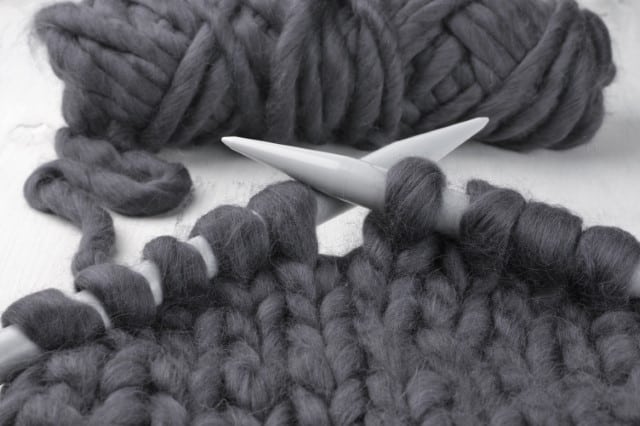 You'll probably use bulky yarn if you make rugs. It's also great for blankets and outerwear.
Choose the Right Types of Yarn for Your Knitting
Clearly, there are a wide range of yarns and each type is best for certain kinds of projects.
There are different types of yarn for knitting to choose from, and each of these fibers has its own qualities, including both advantages and disadvantages.
Materials are just as important as skills and equipment for knitters. Once you have decided on the kind of project you want to create, look at the yarns you have to choose from and select the one that will set you up for success.